I set up the tunnel at the park this morning and decided to do some call to hand stuff PAST the tunnel (eg. don't take the tunnel).
One thing I can say fairly confidently about Lu is that she will not take the tunnel unless I'm very much telling her to take the tunnel.
I even set her up in a scenario where I did a lead out to the tunnel and called her to hand while I ran forward. Meaning, she ran past two tunnel entrances, one that was oh-so enticing. Good girly.
Of course, this comes back to bite me in the butt when I want to pull her across from one entrance (the far one she prefers, which is just weird) to the other (this morning it was the entrance closest to me)… The slightest shoulder pull and quietest "Lumen…!" is enough to take her off the whole obstacle. I'm going to have to be very careful about how I direct her when around tunnels and remember that she is anything but a tunnel suck!
Next time I might try the 'come to hand' exercise with a straight tunnel. They are slightly more enticing. Then a jump (she would much prefer a jump than a tunnel) and then… dun dun dunnnnnnn (dramatic music) a dogwalk.
But hey, at least calling off tunnels is one thing I really don't have to worry about.
Don't mind everything else. 😉
It's very nice to be out running around with her. A guy turned up at the park today with 3 working kelpies- a herding judge with 2 herding champion dogs and a puppy. I even managed to get her NOT to bark at him and then she got to run with them and I actually saw old Lu-style flat-out running coming back! After seeing her not managing to keep up with the dogs on the beach the other day and just not running 'herself', I was feeling a bit sad, but she was looking much much better today. With a bit more stamina and a bit more flat-out running to stretch her stomach and open her stride up again, I think I'll start seeing more and more of my old Lu-style running.
For those of you interested in Mal (who isn't?!), I took him to a muscle therapist today as his limp had gotten better, then worse. She's had a stroke and has a very limited vocab so it can be difficult to understand what she's trying to tell you, but from what I gathered, she had some concerns about his tail (tail set maybe) and a point in his back was troubling her, and that his pain was from his back and his shoulder. When he got there he was standing VERY strangely on his front leg – it was bent sort of like #4 in this picture: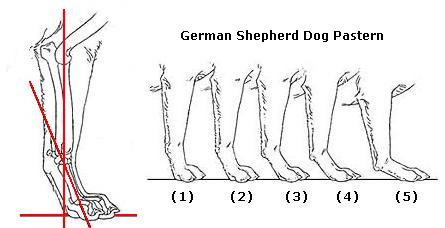 But not quite as bad as #5. Usually I'd say he's a 1 or a 2, I guess. I think it's looking more normal now and his limp has certainly gotten better since the treatment, so he's going back in a week.
Lu as usual lapped up the attention as she got an ear/head massage, some work on her back, and a little on one shoulder, then was given a "Good, good!" bill of health. I'm always amazed at how gracefully she moves after a treatment there- she seems to just glide.